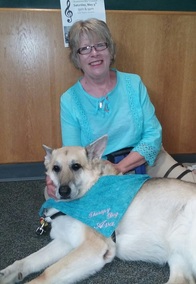 Janis represents the Avilla and Fort Wayne and areas. Her dogs are Ava (pictured above to the left 2006-2015) and Grissom who is the party dog in the house. Recently another German Shepherd came into our lives. Her name is Spirit, eight years old, was heart worm positive and had a 7 ounce bladder stone all taken care of by the Angel Fund of Animal Care and Control of Fort Wayne. All dogs are rescue dogs. Ava was a Therapy Dog. Janis has 12 years of experience using positive association training and has often said "why use pain to get your dog to stop doing something when a small piece of hot dog will have them wanting to sit" . Janis is certified as a professional dog trainer through CPDT-KA, can evaluate your dog for Canine Good Citizen a member of the Association of Professional Dog Trainers, member of Pet Professional Guild and does internet training through E-Training for Dogs. For continuing her education in March 2015 she attended Beth's Positive Training Course presented by Wolf Park & Beth Duman and Behavior of Dogs seminar presented by Team Education in Animal Behavior in July 2015. In May of 2016 attended a fear and separation anxiety seminar presented by Nicole Wilde also held at Wolf Part. (You might see a trend here of loving Wolf Park.) Spending time with the wolfs and the staff of wolf park "positively reinforced" the belief of training, even the wolves, with click and reward methods. She recently completed Fear Free Training through
Fear Free Pets.
Janis also volunteers at Animal Care and Control in Fort Wayne IN. Seeing so many dogs turned into shelters for perceived "bad" behavior only strengthens her desire to do what she can to keep you and your dog living together for many joy filled years. From clients: "You have been extremely helpful and you can tell you are passionate about what you do. Thank you for everything!" Minda and CaicosNot only has Janis given us the tools to train our dog properly, she has increased our confidence in providing Finn with constructive feedback through positive reinforcement. Finn is getting so much better at ignoring distractions that would have cause him to pull on his leash prior, and overall he has less anxiety and is happy to have a job to do! Mandy and Finn
My pup, Sherlock, & I just finished "Dog 1" classes with Jan. This has been one of the best experiences I have ever had! Sherlock came away more confident... I learned to tools I need to help him become the happiest pup around! Thanks, Jan, for believing in us!
email Jan Crary at janis@allaboutthedog.us or call 260 433 2212Lindsay Pease-- Fort Wayne and Whitley County
Lindsay joined All About the Dog at the end of 2017. She started her animal career working as a veterinary assistant for several years before becoming the director of a local humane society. She joined Animal Care & Control in 2013 as the Adoption Supervisor. She has a passion for learning and holds a Bachelor Degree in Psychology. She is able to apply many of the concepts from her degree to her continued study of animal behavior. Lindsay will be an Assistant Trainer, doing in-home sessions as well as fun positive dog and puppy training classes in Fort Wayne and Whitley County. Along with continuing her studies and accumulating the necessary hours to take the test to become a certified trainer. Which will earn her the title
of CPTD-KA (Certified Professional Trainer-Knowledge Assessed). She finds value in working with families to improve and maintain the bond with their pet. She enjoys spending time with family, being outdoors, and has a love for the arts.
email Lindsay--positivefuntraining@gmail.com or call 260 691 0103
---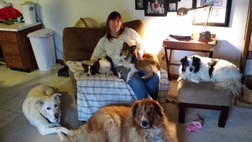 Jean Jennings is located in Huntington area. Jean grew up in the small town of Andrews Indiana. Her love for animals started at a young age. She had a raccoon as a constant companion at the age of 5 (not sure what her parents were thinking – but they were the best of friends). Her first training success was two gerbils (they would come running when she would whistle). Her first dog training experience was in 1995, when she adopted a Dalmatian that had many issues. She bought videos and learned what she could about teaching him to behave. But, back then, positive reinforcement wasn't spoken about. So she bought the choke collar and set out to train her dog. But her heart broke every time her sweet dog would choke himself. She decided a better option was to remove him from the situation if there was a problem. She had some success but knew there had to be a better way. Then in October of 2006 she adopted a little Papillion puppy named Bonaparte (Bones for short). He was completely out of control, but the most lovable dog ever. She set out to find the gentlest training possible. That's when she met Susan Sharpe and learned all of the benefits of Positive Reinforcement Training. Bones became a therapy dog in 2007 and spent many hours being read to at libraries, going to nursing homes, and being involved in fun dog shows. Sadly, Bones passed in 2013. He had a Border collie sister, named Josephine (Josie), who was adopted in 2007 and became a therapy dog in 2008. Josie continues to use her Positive Reinforcement Training to bring joy to many people, and has also used it to learn how to run agility.
​
​email Jean Jennings at jean.dog.trainer@gmail.com or call 260 622 8311

---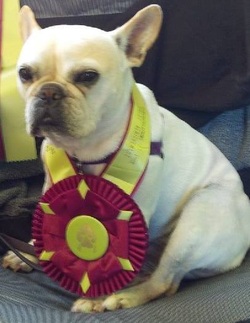 Deborah Bryant's, Chloe, is showing off her ribbons received in agility. Debbie, also a certified professional dog trainer through CPDT-KA, is the instructor for the agility classes as well as Puppy and Dog Basic and Advanced classes. Debbie attended Auburn University in Auburn, Alabama, and moved to Indiana in 1997. She began training as an assistant trainer in 2009. A natural with dogs, Debbie teaches Puppy Development, Canine Pet Manners, and does evaluations through Therapy Dog Inc. She instructs classes in Huntington, and also accepts private appointments. Debbie and her dog, Tyson, a Boxer (2004 to 2011), served their local communities as a therapy dog team. Tyson was awarded Pathfinder's first non-human recipient "Community Partner's Award" in 2011. Debbie's hobby is competing in Agility with her French Bulldog, Chloe. Chloe is also a registered therapy dog, and volunteers in the community as well. Debbie resides in Wabash, IN, with her husband, Gary, and Chloe and French Bulldog rescue named Soja and another rescue (canine) Miss Kitty.
Debbie attended the Karen Pryor Clicker Expo in March 2015 to bring forward to her clients more knowledge and expertise in clicker training as well as all the information gathered at the many workshops. Also attended the Behavior of Dogs seminar presented by Team Education in Animal Behavior in July 2015 and in May 2016 attended Fear and Separation Anxiety presenter, Nicole Wilde held at Wolf Park. Debbie received certification in December 2017 for Family Dog Educator.

Deborah does agility and manners/obedience classes in Wabash IN.


email Jan Crary at janis@allaboutthedog.us or call 260 433 2212
email Deborah Bryant at djb.dog.train@gmail.com or call 260 571 2237
email Jean Jennings at jean.dog.trainer@gmail.com or call 260 622 8311
email Lindsay Pease at positivefuntraining@gmail.com or call 260 691 0103
---